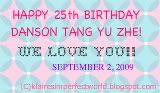 HELLO PEOPLE!

you just entered my kawaii pink blog and your currently reading my latest post!
well.... if you don't notice that your reading my latest post then.... CALL A DOCTOR!! 'cause for sure your sick!!

anyway.... do you know what's special about this post? what?! you don't know

why is it there are still people who are so outdated!

(except for those who really knows what this post is all about)

anyway for those who don't know yet (tsss), i think it's better if i'll tell you! i will really try my best to make this post the most SPECIAL,IMPORTANT,Relevant, Radiant, Rockin,epochal,great,vital,eminent,pictal and the most memorable POST in the entire history of klaire's imperfect world!!

(tadah!)
well... to give you a clue, today is the most important day for the most important person in my life. yeah, most important!did you get it?!yeah! important! i mean, very important!
to cut it, i'll tell you right now!!!
well.... hello people in this universe!!!

today is SEPTEMBER 2,2009 so meaning???
'cause TODAY IS THE BIRTHDAY OF DANSON TANG YU ZHE!!!! (aaaaa!!!)

do you know how long did i wait for this day? yeah, wait for this day! do you know how long did i wait ? A LONG TIME!
for sure not all of you knows danson tang yu zhe isn't?
To give you an idea about him, here are some facts about him....

DANSON TANG YU ZHE IS A TAIWANESE ACTOR,SINGER AND MODEL IN TAIWAN AND BECAME REALLY POPULAR IN THE WHOLE WORLD ESPECIALLY IN SOUTH EAST ASIA.HE STARTED HIS CAREER FOR BEING A MODEL. WE HAVE SEEN HIM IN MANY TAIWANESE SERIES LIKE HANAZAKARINO KIMITACHIHE (WHO BECAME REALLY POPULAR IN SE ASIA)

,KO ONE,9 BALL,X FAMILY,ROLLING LOVE AND MANY MORE.
HE'S REALLY WELL KNOWN FOR HIS TALENT IN SINGING. HE JUST RELEASE HIS SEOND ALBUM "D-GRAVITY" LAST JANUARY 16,2009 WHILE HE RELEASE HIS FIRST ALBUM "AI WO" ON AUGUST 17, 2007 (THAT'S MY BIRTHDAY!! HAHA)...
(oohh!! i uses MR.CAPS LOCK,don't get me wrong! i'm not mad! hahas:))
anyway....wanna know more about him?

why don't you try to research! if your lazy enough to open a new window well shut down your computer NOW! xDD
many people are asking where do i first saw danson tang.
my answer? i first saw him in hana kimi taiwan. first, he didn't really caught my attention. honestly, before i admire him i have a crush on WU CHUN.

(yiihee!!)
i just wake up one morning and only to find out that i like him more than anyone else.
haha enough of that love stories lah~!!
the important is, he's celebrating his 25th birthday today! (i'm just 13 years old) but who cares??? age is just a NUMBER! hahas:)
so i hope he's really happy for his special day. i think i'm not lucky enough to greet him face to face. but i hope someday he'll read this post:))
SO COMING FROM THE BOTTOM OF MY HEART, A HAPPY HAPPY SUPER HAPPY BIRTHDAY 唐禹哲!!!
everybody!!!

" HAPPY BIRTHDAY YU ZHE!!! "
i don't have any "PET PEEVES" for danson! i love the way he is now.
...Wo Ai Ni!!!:)

happy birthday again! and again:)